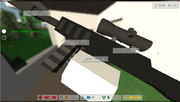 Over here is my set-up for the Maplestrike.
I used the Maplestrike as a "Sniper" for both Zombies and Players.
Why the Maplestrike?
> The Maplestrike uses NATO rounds, which is very (Based on my experiences) common in Military Areas, and they do Exceptional Damage. (1 headshot for Civilian Zombies and 2 Headshots for Military Zombies)
> The Maplestrike is also common (Again, based on my experiences) in Military Areas.
> Since it Uses NATO Rounds, and as we all Know there are NATO drums in-game, Ammo Capacity isn't a Problem.
I used the Following attachments for this set-up:
- NATO Drum (4 Military Bullets to Refill)
- Suppressor 
- Bipod
- Vector 12x Scope 
What's yours?
Community content is available under
CC-BY-SA
unless otherwise noted.