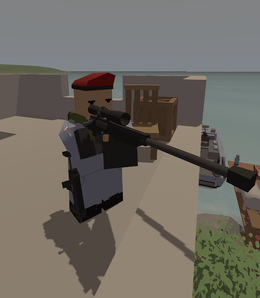 Sergeant Boone is an NPC at the unmarked safezone, found at the top floor. He can give you 1 quest, and allows access to another quest with Corporal Matthieu, the engineer/gunsmith of the fort. Colonel Jourdan talks about how Boone is the "perfect sniper" and that he is located at the very top of the fort, and uses the Olive Hecate and a Banshee.
Quests:
N/A: Sergeant Boone dropped his gold pocket watch while evacuating Marseille, and asks you to go retrieve it. (Requires a "high amount of trust in the fort")
Trivia:
Sergeant Boone is a reference to a character from Fallout: New Vegas bearing the same name.
Community content is available under
CC-BY-SA
unless otherwise noted.