⚙
Downloadable Workshop Content
This page contains official, curated, or timed curated content that has been officially moved to the Steam Workshop, and is not available without being manually downloaded.
The Rattlesnake is a Rare Ranged Weapon in Unturned 3. It uses the Viper Magazine, and comes with the Viper Iron Sights by default. It has an internal Rattlesnake Barrel that cannot be removed.
It can also use the Viper Drum, which can hold up to 100 rounds.
Acquirement:
France: It can be obtained at the Riot Checkpoint outside of The Louvre in Paris and at Satory Defense HQ and rarely in police stations.
California: Can be found in the Police Station in Calabasas.
Analysis:
| ADVANTAGES | DISADVANTAGES |
| --- | --- |
| High RPS. | Low range. |
| Low recoil. | Low damage. |
| Integrally suppressed. | Rare. |
| Can use the Viper Drum. | Cannot use Barrel Attachments. |
| Common ammunition. | Cannot be used as a secondary. |
Blueprints:
Salvage:
Repair:
Trivia:
It is somewhat more difficult to find than its un-suppressed variant, the Viper.
The Rattlesnake is based on the MP5SD.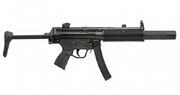 Wikipedia has an article about:
Community content is available under
CC-BY-SA
unless otherwise noted.