A Wooden Ramp is a placeable structure which is crafted using 1 Wooden Platform and 2 Wooden Support. Has 2000hp.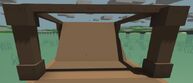 Wooden ramps can only be placed on a Wooden Foundation or Wooden Platform with 4 Wooden Pillars on each corner of the foundation/platform. It can be placed next to Foundations/Platforms.
You can rotate the ramp using right click. (It can be difficult to place them correct, watch videos about this)
However, cars may have some trouble driving up ramps. Fast cars can but require a run up.
Blueprints:
Output:
Community content is available under
CC-BY-SA
unless otherwise noted.