The Hospital is a structure located in many towns and cities. The Hospital features medical loot such as the Tablets, Medkits, and Dressing.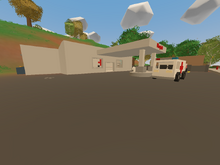 Building Aspects
The Hospital's entrance has a cashier-esque lobby, a surgery room, a storage room (to hold such medications), and a patient's room.
Each room except for the lobby has a chance of spawning a medical item.
The Hospital's parking lot can spawn in an Ambulance, along with other vehicles.
Items Found Inside Structure
Trivia
Community content is available under
CC-BY-SA
unless otherwise noted.