The Grizzly is a Legendary Ranged Weapon in Unturned 3. It uses Grizzly Magazines, which hold 5 rounds each. It has the Grizzly Iron Sights attached by default and takes up 10 slots in the Inventory (5x2).
Acquirement:
Horde Beacon: It is available as a reward.
Germany: It can be found as a part of the Peaks_Special_High_Peaks spawn-group, which includes locations like Schwarzwald Military Base, Cologne, Aerospace Defense Complex.
Hawaii: The Grizzly can be found at Military Locations or as uncommon drop from Coastguard zombies in the Alika Base.
PEI: Can be found inside Carepackages.
Russia: Can be found inside Carepackages.
Washington: The Grizzly can be found at Military Locations, as a rare drop from Mega Zombies.
Analysis:
Advantages:
The Grizzly is able to deal a huge amount of damage against anything.
It is semi-automatic, meaning that the player does not need to cycle the bolt between shots, unlike the Timberwolf, Dagger, and Ekho.
It has a very long effective range.
Disadvantages:
It is extremely inaccurate when hip-firing.
It can only hold 5 rounds in its magazine.
The Grizzly takes up a very large amount of space (10 slots).
It is very loud when fired.
It possesses high recoil.
High Quality loss.

In addition, it is very costly to repair this weapon.

It is unable to equip barrel attachments.
The default iron sights on the weapon can be obstructive, making it difficult to use if other optical attachments are not available.
Blueprints:
Output:
History:
| Version | Changes |
| --- | --- |
| 3.14.13.0 | Wear was added, with a value of 4. |
| 3.15.0.0 | Added damage against objects, set at 150. |
Trivia: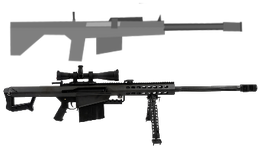 The Grizzly is based on the Barrett M82 or similar models, an anti-materiel sniper rifle used by a variety of armed forces throughout the world, originating in the United States.
It was previously labeled as "Canadian" before 3.4.9.0 where Nelson changed it to "American."
It is named after the real-life grizzly bear.

Wikipedia has an article about:
This article is a stub. You can help Unturned Bunker Wiki by expanding it.
The M82 is a ranged weapon in Antique.
Trivia:
Weaponry (Antique)
| | |
| --- | --- |
| Handgun | |
| Rifle | |
| Carbine | |
| Assault Rifle | |
| Sniper Rifle | |
| Shotgun | |
| Machine Gun | |
| Bow | |
| | |
| --- | --- |
| Bullets | 114x23mm x7 • 556x45mm x30 • 57x43mm x10 • 762x39mm x30 • 762x51mm x7 • 762x54mmR x100 • 77x56mmR x5 • 9x19mm x13 • 9x33mmR x6 |
| Miscellaneous | |
| Ammunition Crate | |
Unturned 3:
First-Person View:
General:
Attachments:
Third-Person View:
General: