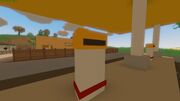 Gas Pumps are located at Gas Station and can be used to refill empty Gas cans. They are a smaller variant of the Gas Tank. They contain 2500 units of fuel which is enough to fill 5 gas cans or exactly 1 Industrial Gas Can. They respawn every 25 minutes.
Locations with Fuel Pump
The lone station on the Yukon map.
See Also
Trivia
In the scrapped Canada map, Yukon's gas station contained no pumps at all.