Fire Emblem Warriors: Three Hopes - The Loop
Play Sound
The Dragonfang is an Epic Ranged Weapon in Unturned 3. It uses the Dragonfang Box, which holds 150 rounds and takes up 10 slots in the inventory (5x2). It spawns with Dragonfang Iron Sights equipped.
Acquirement:
Horde Beacon: Available as a reward.
Germany: It can be found as a part of the Peaks_Special_High_Peaks spawn-group, which includes locations like Schwarzwald Military Base, Cologne, Aerospace Defense Complex.
Hawaii: The Dragonfang spawns at Military Locations, such as the Alika Base.
Russia: Can be found in Ranger Locations, such as American Spy Base.
Washington: The Dragonfang spawns at Military Locations, such as the Olympia Military Base. It is also an uncommon drop by Mega Zombies.
Analysis:
Advantages:
High ammo capacity.
It allows every type of attachment.
It is able to damage invulnerable objects.
Decent rate of fire.
High damage.
Disadvantages:
Very expensive to repair.
Very slow equip time.
Very slow reload speed.
Lacks a semi-automatic fire mode.
Very inaccurate.
Very loud.
Rare ammunition.
Blueprints:
The Dragonfang can be repaired with 7 Metal Scrap and a Blowtorch.
History:
| Version | Changes |
| --- | --- |
| 3.3.7.0 | The Dragonfang was added to the game. |
| 3.14.14.0 | The Dragonfang's box ammunition capacity was increased from 100 to 150. |
| 3.15.0.0 | Added damage against objects, set at 25. |
| 3.27.2.0 | |
Trivia: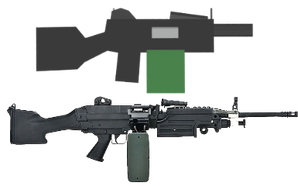 It is based on the M249, the American adaption of the Belgian FN Minimi.

Wikipedia has an article about: