Fire Emblem Warriors: Three Hopes - The Loop
Play Sound
The Bluntforce is a Rare Ranged Weapon in Unturned 3. It uses 12 Gauge Shells and holds 8 rounds in the chamber. It spawns with the Bluntforce Iron Sights pre-attached by default. The Bluntforce takes up 10 (5x2) slots in the inventory.
Acquirement
The Bluntforce can spawn at Police Locations on all maps except Russia, where it can be acquired through care packages. On Yukon, it can additionally spawn at the RCMP Hut.
Analysis
Advantages
Disadvantages
Has very limited range.
The ammunition is often rare and only found at a few select places.
Large size in the Inventory.
Cannot use Barrel Attachments.
Overview
The Bluntforce is a very effective close-range weapon, capable of killing a player with spec-ops clothing in any body part in one shot, provided every pellet hits. The Bluntforce suffers from a slow rate of fire and a short maximum range, which make it somewhat unreliable should one shot not be enough. The effective range of the Bluntforce, as any other shotgun, is highly dependent on the player's Sharpshooter skill and a potential Tactical Laser. In addition, its rare ammunition holds it back somewhat.
Blueprints
History
| Version | Changes |
| --- | --- |
| 3.3.5.0 | The Bluntforce has been added to the game. |
| 3.3.9.0 | Removed ability to use Barrel attachments. |
| 3.15.0.0 | Added damage against objects, set as 12. |
| 3.15.12.0 | Fixed a bug where it was not spawning on Washington map. |
| 3.24.2.0 | Ranged tweaked from 20 to 35. |
Trivia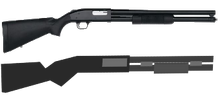 It is based on the Mossberg 500.
Unlike the shotguns in Classic, the 12 Gauge Shells are loaded as a magazine.
There exists a version of the Bluntforce which has a Barrel Attachment equipped, which is normally impossible, in Russia.

Wikipedia has an article about:
The Mossberg is a Ranged Weapon in Antique. It uses 12Gauge as ammunition, and holds 8 rounds.
Acquirement
The Mossberg is found at Police Stations and Farway Airport's air traffic control tower. It can also be dropped by police zombies.
Analysis
Advantages
Disadvantages
Trivia
Reloading the Mossberg when completely empty will fill it with all the 12Gauge in your inventory, for the cost of a single 12Gauge shell. Unloading the Mossberg afterwards allows for duplicating 12Gauge.
It is based on the Mossberg 500.
Weaponry (Antique)
| | |
| --- | --- |
| Handgun | |
| Rifle | |
| Carbine | |
| Assault Rifle | |
| Sniper Rifle | |
| Shotgun | Mossberg • Remington |
| Machine Gun | |
| Bow | |
| | |
| --- | --- |
| Bullets | 114x23mm x7 • 556x45mm x30 • 57x43mm x10 • 762x39mm x30 • 762x51mm x7 • 762x54mmR x100 • 77x56mmR x5 • 9x19mm x13 • 9x33mmR x6 |
| Miscellaneous | |
| Ammunition Crate | |