The Ace is a Uncommon Ranged Weapon in Unturned 3. It is chambered in Ace Clips which hold 6 rounds each. The gun takes up four slots in the Inventory (2x2).
Acquirement:
The Ace can typically be found in gun stores in all official maps and as drop from civilian zombies or in civilian locations.
France: A modified version of the Ace with a 3x Scope can be obtained from Corporal Matthieu.
Russia: There exists a version of the Ace which has a scope attached, which is normally impossible, but can be obtained through a quest from Doc Ernie in Russia.
Analysis:
ADVANTAGES

DISADVANTAGES

The Ace inflicts high damage per shot, and is capable of killing most zombies with one headshot.
The Ace has the smallest ammo capacity of any weapon in the pistol category.
Both the Ace and Low Caliber Civilian Ammunition Boxes are easy to find.
Very accurate and handy to use for long range.
The Ace has a sluggish rate of fire.
Takes only 4 slots in the inventory.
The Ace is a very loud weapon in general, as the firing sound and handling sounds are both loud.
Great durability.
The only attachment it accepts is the Makeshift Muffler.
History:
| Version | Changes |
| --- | --- |
| 3.3.5.0 | The Ace has been added to the game. |
| 3.3.9.0 | |
| 3.15.0.0 | Added damage against objects, set at 25. |
| 3.15.5.0 | Can now use Barrel Attachments. |
| 3.17.4.0 | |
Trivia: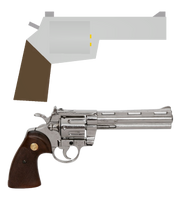 The Magnum is a revolver in Classic.
History:
| Version | Changes |
| --- | --- |
| Early Versions | The Magnum was added to the game. |
| Pre-Steam | Damage has been increased. |
The Python is a Ranged Weapon in Antique. It uses 9x33mmR as ammo.
Acquirement:
The Python is rarely found at Civilian Locations. It can also be found at Farway Airport's air traffic control tower.
Analysis:
Advantages:
Disadvantages:
Trivia:
It is based on the Colt Python.
Weaponry (Antique)
| | |
| --- | --- |
| Handgun | |
| Rifle | |
| Carbine | |
| Assault Rifle | |
| Sniper Rifle | |
| Shotgun | |
| Machine Gun | |
| Bow | |
Unturned 3:
Antique:
Deadzone: